The tool "racks" mount to the vehicle bed using metal brackets embedded within the frame, with two Bars on each side of the bed and an additional storage structure over the bed.
Vehicle Fitment:
Polaris: Ranger 1000 (Shown)
Gravely: Atlas JSV 3400SD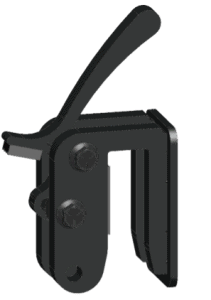 Artillian offers a number of attachments that can be purchased separately. Build the configuration that's best for you.
Simple and versatile – mix-&-match any combination of attachments. Cam lever latches built directly into each Artillian component allow you to mount, move or remove attachments in seconds!